News & Press
The Ritz-Carlton Residences, Estero Bay Announces...
The Ritz-Carlton Residences, Estero Bay Announces Expanded Global Sales Reach
ANDER & Co Press Release
|
February 2, 2023
To meet growing national demand, prestigious developer partners with Douglas Elliman Development Marketing and taps lauded luxury sales director George Mato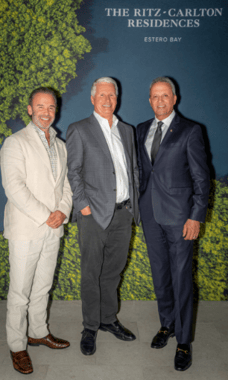 NAPLES, Fla. (Feb. 2, 2023) — Capitalizing on growing demand throughout the U.S. to own a branded residence in Southwest Florida, The Ritz-Carlton Residences, Estero Bay has now united a powerhouse sales team beyond any other luxury development in the region. London Bay Development Group – the visionary behind the property -- announced today the appointment of luxury real estate veteran George Mato as the new sales director and a partnership with Douglas Elliman Development Marketing (DEDM), to lead sales for the two-tower architectural masterpiece.
"There is incredible appetite for Southwest Florida living from all across the U.S. and world in recent years that now reaches far beyond historical trends. The enhanced sales team of The Ritz-Carlton Residences, Estero Bay is a response to this tremendous desire to plant roots in the region," said Mark Wilson, CEO of London Bay Development Group. "Douglas Elliman has a notable track record and carries cachet that aligns with our brand, which is highly complementary to George's wealth of knowledge."
As the new sales director, Mato brings more than 30 years of experience to The Ritz-Carlton Residences, Estero Bay. He has spearheaded iconic developments to unprecedented success, including multiple within The Ritz-Carlton brand, and has generated over $8 billion in sales revenue over the course of his career. Prior to joining London Bay Development Group, he served as vice president of sales at Miromar Lakes Beach & Golf Club.
To broaden The Ritz-Carlton Residences, Estero Bay's market footprint, Mato will lead the property's sales in partnership with Douglas Elliman's famed Eklund | Gomes Team, which is helmed by Bravo TV's "Million Dollar Listing" stars Fredrik Eklund and John Gomes. Representing a new development portfolio exceeding $87 billion, DEDM catapults The Ritz-Carlton Residences, Estero Bay onto a global stage through its worldwide network and strategic international alliances.
The Ritz-Carlton Residences, Estero Bay present a rare opportunity to live in harmony with nature, beside the unrivaled beauty of Florida's first aquatic preserve. Spanning 30 acres, two towers will rise 22 stories along nearly a mile of waterfront. Residences are priced from $2.8 million and feature two-, three- and four-bedrooms ranging from 2,628 to 3,885 square feet. Encompassing 224 condominiums, unobstructed sunset and coastal views are enhanced by outdoor livability, with balconies spanning up to 2,200 square feet. Adding to the allure is a backdrop of 500 acres of surrounding natural habitat.
"Southwest Florida is a burgeoning market for luxury buyers, and this development is truly a singular offering that unites elegance and hospitality of the Ritz-Carlton brand with exceptional design by Arquitectonica and Meyer Davis, all in an unmatched waterfront setting," said Jay Parker, CEO of Douglas Elliman Florida, which opened an office on the state's southwest coast in 2021. "London Bay is highly regarded as a luxury residential market-maker and we are thrilled to be part of this transformative project."
Totaling more than $4 billion in transactions across 13 markets last year, the Eklund | Gomes Team has consistently led Douglas Elliman in sales volume and gross commission income. With more than 80 new developments sold, the team has established itself as an esteemed partner in bringing exceptional residential projects to the market.
The Ritz-Carlton Residences, Estero Bay will infuse unsurpassed hospitality into five acres of combined indoor and outdoor amenities – the most of any living opportunity in the marketplace. Inspiring a sense of community is the hallmark of The Ritz-Carlton's personalized and high-touch concierge service, which will be experienced through the property's residential team at The Experience Studio, Estero Bay. Rich amenities include a Wellness Center with fitness, yoga and Pilates, and steam and sauna, and a spa. Owners will enjoy three pools, with attendants and personal towel service, and floating-like pavilions at an expansive lagoon water feature. Bocce courts, multiple fire pits, and barbeque stations promote connections with the outdoors and friends.
Centrally located between the two towers is The Oasis, an 8,000-square-foot space that caters to leisure and memorable activities. Residents can gather at the Sunset Lounge as an evening ritual, host in the private dining room, or catch a game in the Sports & News Café. A Wine & Whiskey Room will be equipped with temperature-controlled storage, and interactive moments will be found in the card room or demonstration and catering kitchen.
The Ritz-Carlton Residences, Estero Bay are part of the new Saltleaf coastal village underway, which will introduce direct water access with the 72-slip Saltleaf Marina next door along with a five-star restaurant. The Saltleaf Golf Preserve is also within the community, with London Bay Development delivering a brand new 18-hole championship course in late 2023, as well as a nine-hole short course thereafter.
A short drive away is the friendly town of Bonita Springs, home to dining, boutiques, and galleries, and Barefoot Beach, named one of the top 10 beaches in the U.S. Getting to The Ritz-Carlton Residences, Estero Bay is easy, only 20 minutes from Southwest Florida International Airport. For more information, visit the sales gallery at 5000 Coconut Point, Bonita Springs, or www.TheResidencesEsteroBay.com.
ABOUT LONDON BAY DEVELOPMENT GROUP
London Bay Development Group focuses on diversified development of residential and senior living communities in the luxury market, with an emphasis on cutting-edge design and a customer-centric approach. From identifying premium raw land opportunities to creating new communities and luxury high-rises conceptualized by the experienced land development team, London Bay Development Group is setting a new standard for luxury living in some of Southwest Florida's premier locations. For more information, visit www.LondonBay.com
ABOUT DOUGLAS ELLIMAN DEVELOPMENT MARKETING (DEDM)
Douglas Elliman Development Marketing, a division of Douglas Elliman Realty, offers unmatched expertise in sales, leasing, and marketing for new developments throughout New York City, Long Island, Westchester, New Jersey, Florida, California, Massachusetts, and Texas. The company's new development hybrid platform matches highly experienced new development experts with skilled brokerage professionals who provide unparalleled expertise and real time market intelligence to its clients. The firm is heralded for its achievements in record breaking sales throughout each of its regions. Drawing upon decades of experience and market-specific knowledge, Douglas Elliman Development Marketing offers a multidisciplinary approach that includes comprehensive in-house research, planning and design, marketing, and sales. Through a strategic global alliance with Knight Frank Residential, the world's largest privately-owned property consultancy, the company markets properties to audiences in 51 countries, representing an over $87 billion global new development portfolio. https://www.elliman.com/marketing
Kayak the bay, round up the family for a pop-up concert or a picnic on Sanibel or Captiva Islands. A short drive to Naples brings luxury shopping on Southwest Florida's "Rodeo Drive," or spend time in the nearby friendly town of Bonita Springs, with its sugar-white sand beaches, boutiques, galleries and restaurants. Getting to The Ritz-Carlton Residences, Estero Bay is easy, only 20 minutes from Southwest Florida International Airport.
ABOUT THE EKLUND | GOMES TEAM
Celebrity and luxury driven, The Eklund | Gomes Team is a staple of New York, California, Texas and Florida real estate. Founded by John Gomes and Fredrik Eklund, star of Bravo's Emmy Nominated Million Dollar Listing New York and Million Dollar Listing Los Angeles, the Team has sold over $15 Billion of residential real estate over the last decade. They have successfully sold 100+ new developments across the country setting countless record sales and earning them the moniker "The Brokers to the Stars". Consistently ranked on industry hot lists, including The Hollywood Reporter Power Brokers and Variety's Real Estate Elite, Eklund | Gomes continues to sit on the top, bringing in $4.5 billion in transactions in 2021 alone. In 2022, they notched one of the priciest sales of the year for New York at 432 Park Ave., for $70.5 million. Recently, the team was honored with the 2021 ICON AWARD by Douglas Elliman for their illustrious career having amassed over 2M followers on social media. With 90 agents in 13 major U.S. markets and plans for further expansion, there is no real estate team with more reach, exposure, or influence.
This press release was also published by Florida Weekly.
The Ritz-Carlton Residences, Estero Bay are not owned, sold or developed by The Ritz-Carlton Hotel Company, L.L.C. or its affiliates ("The Ritz-Carlton"). LB Estero Bay Investments, LLC uses The Ritz-Carlton marks under a license from The Ritz-Carlton, which has not confirmed the accuracy of any of the statements or representations made herein.